Dont crash.
Thats what i kept telling myself. Hold this pace, keep the pressure up, you will get to cut your hair later. Something must have clicked - I either harnessed my inner Marine or was simply too afraid that the mullet I have been cultivating since cross season would grow out of its larval stage - because i didnt crash. I fumbled a few times (once, to the obvious delight of a photographer), ran up a climb after getting derailed by a rider that was apparently unsure what "on your left" meant, but was somehow immune to the muddy, root infested yardsale that plagued many of my fellow racers.
I didnt crash.
Winsted Woods started off poorly: I was cold, didnt eat much of a breakfast, missed my morning coffee and didnt realize it would be 20 degrees colder at the race than in Boston. Caitlin, Tammy, Greg and I piled into the
Team Car
at 630 am and got to winsted almost in spite of Googles directions. Caitlin, Tammy and Steve were going to try their hands at racing (catlin has a race or two under her chamois, but mostly rides the trails once a week with our
tiny hound
) and needed to get registered and to the First Timers start line 10 minutes after we arrived. Once they were on the course, Greg and I walked a bit up the hill to see the beginners come by and try to get an idea of what we were in for.
One by one, they rode by, and the sounds were not promising (I believe Steves breathless pant as he rode by was "I am going to kill you"). One kid rode though with one crankarm. Caitlin was covered in mud but in good spirits, and though Tammy had a spot of trouble on the trail she gamely rode it out to the finish.
Gregs race went off at 1130, and the rest of us were to provide him feeds. After about twenty minutes, we decided that providing the rest of us with a caffeine feed was at least as important, so Tammy and Steve went on an hour and a half long odyssey to find a coffee shop. In the meantime Greg, hurting with crashes and not enough breakfast, dropped out of his race.
My race was pushed back to 230 (good thing I timed my warmup ride for a 2pm start). I was about 6th wheel when we hit the singletrack, and after trading an elbow or two I made the lead group. This immediately broke, with the lead rider opening up and the two in front of me unable to respond. I bridged up to the leader, told him to keep the pressure up - that we had the gap - and was mentally working out ways we could work together when he told me he couldnt keep the pace up. I passed him, and was on my own.
I never know what to do in these situations. I hammered for the whole first lap - heart rate on the limit - lost my water bottle on a descent, and pedaled the entire time purely out of fear of getting caught. On the second lap, I settled down a bit. I started catching the stragglers, using them as little goals to keep my pace up. A few of them did not understand how to allow a rider in contention to pass, resulting in some good 'cross practice, but most folks were very courteous. It was sometime during this lap that I realized I was in the lead, and could very possibly win the race. I started paying more attention to little things - my line through turns, carrying speed through the mud, keeping my cadence up - anything to keep me from crashing or flatting.
On the last lap I caught the leaders of the group that had started 3 or 4 minutes before me (though I had no idea at the time), but I was getting tired and sloppy. midway through the lap, I took the top of a climb wrong and dumped my chain. After working that out, I panicked more than I should have and jumped headlong into the pain cave. Pedaling frantically, like one of those running nightmares where something is chasing you and you cant get away (though, now that I think about it, that almost entirely sums up bike racing) I lost all semblance of rhythm and control. There were two riders behind me, gaining. I simply blew apart. The last time something like this happened was at the Ice Weasels cross race, where my chain dropped and I lost 6 or 7 places. At that race I rode calmly, pacing myself back into a podium spot. On top of the hill at Winsted, an asthmatic riding a pannyfarthing could have ridden me down. It took a few minutes to settle back in, and I caught the guys that passed me at the finish. Since they were in a different category, I didnt contest the sprint, just rolled across the line and curled up on the grass.
I had a good finish time - 1:32 or so - enough to finally warrant a much needed haircut. Lori, already several podiums deep this season, kept it going with a solid victory - outpacing the current series leader for the win.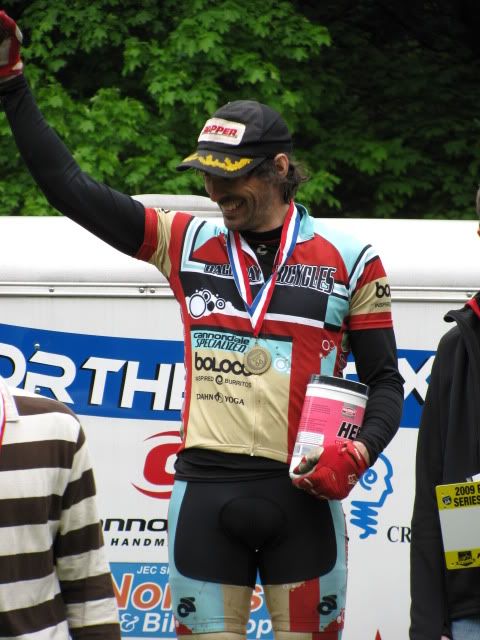 And if I may, I would like to dedicate this victory to my friend Dakota Martin. Who, though recently one leg short of a pair, is planning on coming out and whupping the pants off us at the 24 Hours of Great Glen. Good luck and good recovery buddy, from all of us.